About Malibu Farm
Our story: by founder and chef Helene Henderson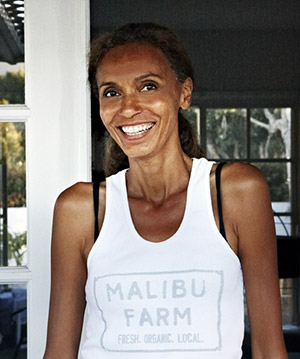 Hi! I'm Helene. I started Malibu Farm a few years ago, doing cooking classes, and farm dinners out of my home and in my backyard.
I now have a casual counter service cafe at the end of the Malibu Pier and a full service restaurant and bar at the beginning of the pier a restaurant in Lido Marina Village, and in Orange County, Lanai,HI and Miami, FL and more seeds sprouting.
Although we have grown like wild weeds we are still a locally owned small business. Our food is super simply prepared, there are no secret ingredients, and many of you have been to my home picking produce and cooked the very same recipes we use at all our locations.
The Malibu farm cookbook featuring all the original recipes is available online, and in bookstores.
We use mostly whole wheat flours and whole grains. Lots of veggies, and fruits, I love arugula and I totally believe there is no such a thing as too much lemon. We use no fake food. Margarine, veggie butter, sugar substitutes? What is that stuff? If you don't know how to make it, or where it comes from, don't eat it. don't buy it.
I don't use non fat products, cause nothing makes you fatter than eating fat free. This is a fact. Eat the real thing, or don't eat it atall.
I grew up fishing, so I love seafood. But let's not deplete our treasures from the sea! Our portions are small, and we work hard to offer sustainable seafood only.
At my home we raise free range, fancy, feather-footed chickens, who all have names. We still eat chicken, just really super small portions of it. We have a pig named Arnold too, who is super cute, super hungry, and super fat. We still serve pork in our restaurants, but shh, don't tell Arnold.
I don't have any cows and I don't eat red meat. But we have been known to grill a steak or grass-fed-beef burgers for our guests.
I have two goats. They love to walk on the beach and participate in the point dume 4th of July parade. We used to milk one of them, but wow that is a lot of work, so we no longer have fresh goat milk from my home.
In our early days operating out of my back yard, our mission of local, organic and fresh was easy. We even raised our own sheep that we served for a farm dinner and used produce exclusively grown on my property for farm events.
Once I opened the cafe, and I hoped to continue using small farmers only, and supply from my own backyard farm. The first few months we used oranges and lemons exclusively from my own trees, and the eggs were from my chickens. I get about 30 eggs per day from my flock, which now is a drop in the bucket compared to the 500 eggs per day we use on the pier. However, if you are lucky, that egg you are eating, may be one of mine!
We still strive to offer as much local and small farm as we can. From our own farm we have occasional eggs, persimmons, figs, lemon's, pomegranates, apricots, asian pears, carrots, beets, asparagus, and fresh herbs.
We buy from Larry Thorne, strawberries, oranges, kale, chard, basil, tomatoes and whatever else he has available. We are super lucky to have Kerri from Malibu Family Farms bring a farm truck full of local goodies directly to our back door twice per week. We get From Mike Zacha at Malibu organic lemons, lemons and oranges year round until supply runs out. Our arugula and pea shoots come from Maggie's farm.
We have a rep every week at the Santa Monica farmers market, and seek to get the best products available at any given time. We also receive produce from World Wide from their warehouses, when we can not source all locally.
We order as much as we can organic, but none of our local small farmers are certified, and our big suppliers, do not deliver 100 % organic 100 of the time. I naively thought when I opened on the pier, that organics were easy for restaurant to source - it is not. It is a daily and challenging struggle.
However we are proud of the products that we serve and believe we putthe best possible produce available on every dish served.
Our other providers are as follows - for information about their products please contact the vendors directly.
All breads are Local

La Brea bakery for sandwich breads
Rockenwagner bakery for brioche buns
Rising hearts bakery for gluten free bread and buns.

Coffee: Caffe Luxxe
Tea: Charles and Company, kosher and organic.
Beef: is grass fed, not organic. We wish we could get both - alas not currently available by our vendors
Fish: salmon alternates between wild and "organic" farmed
Eggs: are free range organic Farmers Hen House certified humanely raised
Milk: Horizon and Strauss organic
Cheese: De Stefano - Los Angeles, Pomona, local
Yogurt Strauss whole milk organic yogurt or Stonyfield low fat, although i prefer whole milk, but we can't always source the Strauss.
- Helene
PS: If you would like to make a dinner reservation, please visit our Reservations Page